Ending Female Genital Mutilation – THISDAYLIVE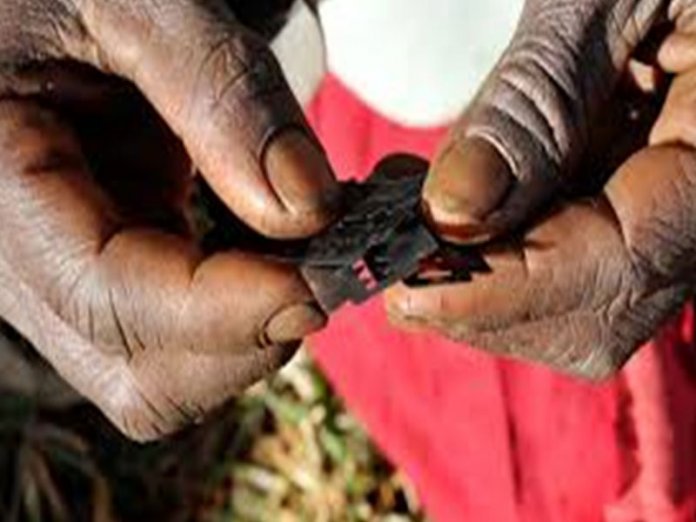 Ugo Aliogo examines the progress made in the eradication of Female Genital Mutilation in Nigeria
Female Genital Mutilation (FGM) is a harmful traditional practice involving the cutting or removal of the external female genitalia.
Based on World Health Organisation (WHO) definitions, there are four types of FGM, the first known as clitoridectomy is the type I which involves partial or total removal of the (external) clitoris and/or the prepuce. The type II is known as excision and it involves partial or total removal of the (external) clitoris and the labia minora, with or without excision of the labia majora.
The type III is known infibulation and it involves narrowing of the vaginal orifice with creation of a covering seal by cutting and positioning the labia minora and/or the labia majora, with or without excision of the clitoris. The type IV involves all other harmful procedures to the female genitalia for non-medical purposes, for example: pricking, piercing, incising, scraping and cauterization.
Globally, 200 million women and girls have been mutilated. In Nigeria alone, 20 million women and girls have been mutilated and this figure represents 10 per cent of the global total.
What this implies is that one out of every 10 mutilated girl or woman in the world is a Nigerian. In Nigeria, the zones with the highest FGM prevalence rates are the South West and the South East.
From a legal point of view, 13 States in Nigeria have their own State laws expressly prohibiting FGM. These States includes Lagos, Osun, Ondo, Ekiti, Bayelsa, Ogun, Delta, Ebonyi, Oyo, Imo, Edo, Cross-River and Rivers State.
WHO Report
In Nigeria, data from the 2018 National Demographic Health Survey (NDHS) shows that 20 per cent of women age 15-49 have been circumcised. The World Health Organisation (WHO) in a report stated that the most common type of FGM in Nigeria is type II (some flesh removed), with 41 per cent of women who had FGM, while undergoing the procedure. Meanwhile, 10 per cent percent of women underwent a type I procedure (clitoris stitched, no flesh removed) and six per cent underwent a Type III procedure (also known as infibulation).
The report also noted that the NDHS 2018 also indicates that seven per cent of circumcisions carried out on girls' age 0-14 and 8.6 per cent of women age 15-49 were carried out by medical professionals with majority of female circumcisions carried out by traditional circumcisers.
The report further explained that in addressing the menace, the Nigerian government developed the first National Policy and Plan of Action for the Elimination of Female Genital Mutilation in Nigeria, 2013 – 2017; which was revised in 2018. Significant milestones were recorded in the implementation of the policy over the past six years which includes the enactment of legislation outlawing FGM. However, implementation of this legislative framework remains low across the States in the country.
Experts; View
To create a basis for proper understanding of FGM especially from a stakeholder's viewpoint, THISDAY spoke to the Programme Officer, Action Health International (AHI), Funsho Bukoye, who stated that several advocacy campaigns have been put in place towards elimination of FGM in Nigeria.
She affirmed that in 2015, the Violence Against Persons (Prohibition) Act was passed into and it involves punishing offenders who perpetrate the act, adding that domestication of the law has been poor, "as it is only few states that have domesticated the law."
Bukoye argued that due to poor domestication of the law, the practice still continues in rural areas where there is little or no understanding of the law.
According to Bukoye, "FGM is a cultural, rooted traditional belief such as child marriage. Thus, it requires more than awareness creation, but intense advocacy and behavioural change communication to eradicate this practice.
"For example: How are the circumcisers engage after abandonment of practices? A lot of Civil Society Organisations are doing great works especially in States where they are high prevalence cases of FGM such states include Oyo, Osun and Ebonyi. There are a lot of intense advocacy and engagement programmes.
"There have been a lot of communities that have declared abandonments especially in Osun and Oyo with the headship of those towns passing laws that persons involved FGM will be punished.
"For instance, in Osun, the traditional ruler of a particular community passed a law that anybody involved in FGM banished from the town. Another law passed was that if any person is caught in the act of FGM, their movement in the town will be restricted for two market days, and if it is a continuous practice they will be sent out of the community."
She added: "Section 6 of the VAPP Act provides for a set of punishments for FGM. Some of these punishments include; Anybody who performs or engages another to perform FGM on any person is liable to a term of imprisonment not exceeding 4 years or to a fine not exceeding N200,000 or to both.
"Anybody who attempts, aids, abets, or incites another to carry out FGM is liable to a term not exceeding two years imprisonment or to a fine not exceeding N100,000 or to both."
Also commenting on the issue, a social activist on the issue of FGM, Melony Ishola, asserted that three million girls are been mutilated globally, and Nigeria has the highest number of mutilated girls worldwide.
She also stated that there are laws put in place to prohibit the issue of FGM such as the Violence Prohibition Act, which she said is very effective in the country.
Ishola maintained that FGM as a practice falls under the aspect of the law which concerns any harmful traditional practices, therefore in the country; there are laws and policies prohibiting FGM.
According to her, "From States to States; there exist laws that govern FGM prohibition and it varies. There are some States that actually prohibits this. For instance, in Oyo State, there are two laws; one of the laws is 2006 Child Right Act which is stipulates a fine of N20, 000 and a jail terms of not more than two years for any offender. The state also has the 2016 Violence Against Women Law which stipulates a fine of N100, 000 and a jail term not exceeding four years.
"In Oyo state, you will realise that the duplicity of this law is a problem especially when you consider the fact that there are two laws penalizing offenders. There was a report I read about some members of the judiciary in the state not being aware that there are legal provisions criminalising FGM in the state. There is also a part in the report where police officers asserted that they are not supposed to carry out arrest of offenders of FGM; they feel that the responsibility should belong to the officers of Nigeria Civil Defence.
She argued that FGM is an age-long traditional practice that is rooted in culture and tradition, however espoused that the religious leaders Christianity and Islam have debunked that the fact their Holy Books recommend FGM, "yet a lot of research shows that FGM is very prevalent in Muslim dominated population."
The activist said that there is hypocrisy of religious leaders believing that mutilating women would help sexually to sanitise the society, adding that it is very strange, though true.